What is Good Omen Goodeze ACT Inc?
Good Omen Goodeze Inc (affectionately known as GOG) began life as a Canberra based community needle-craft group providing personalised hand crafted comfort 'Goodies', for patients and their loved ones in need of comfort or warmth in the Canberra Hospital. We have proudly been supplying patients and families of the Canberra Health Services since May 2017 and the University of Canberra Hospital since 2019. This includes patients in all areas, with a special focus on the Intensive Care Unit, Aged Care and End of Life Care.
In February 2019 we piloted a Knitting for Mindfulness Program within The Canberra Hospital and in late 2019 it was announced that our program would roll out throughout the Canberra Hospital as well as the University of Canberra Hospital. Unfortunately due to the Covid19 Pandemic, this was put on hold. In September 2020 GOG applied for and won a 'Covid19 Mental Health Innovations Grant' which gave us the opportunity to provide a similar wellness program to the wider Canberra Community. Further information regarding our Project can be found on our website under the 'Community Threads Project' section.
In November 2020 Good Omen Goodeze became an incorporated association within the ACT. A list of our current committee members can be found here.
How did GOG get started?
Our President and Founder, Mary Liondi-Barlow knitted a beanie for a loved one who was undergoing chemotherapy. She loved knitting, being creative and found joy not only in making, but in gifting these to other family members and then friends. After a couple of months, she decided to knit for charity and through her friend Kath, a very special ICU nurse, she began gifting these to the Canberra Hospital. She heard how much comfort the beanies brought to the patients and and their family members, which inspired her to keep knitting and crocheting. It wasn't long before friends and other community members became involved, and voila! Good Omen Goodeze was born! Currently our online membership has grown to in excess of 380 members!
What type of things do you make?
We make hand crafted comfort goods using donated materials. Most of our goods are knitted, crocheted or sewn by people that kindly donate their time, skills and resources to help others. We make lap rugs, beanies, scarves, slippers, small quilts and many other comfort items. We prefer our completed lap rugs to be at least 1m x 1.2m and up to around 1.5m x 1.5m.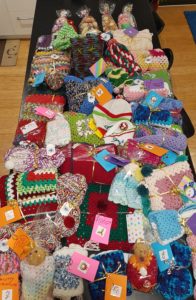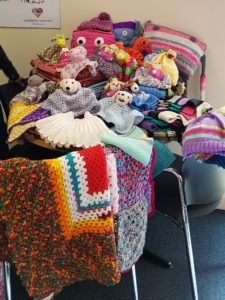 Can I get involved if I don't have a lot of time?
Yes! You can knit or crochet just a few squares (we prefer 15 x 15cm or 20 x 20cm) or make a small toy or beanie, depending on how much time you have. If you have skills in other areas that you feel may be able to support us such as administration or IT, please feel free to contact us with suggestions.
I'm not very experienced, is that ok?
Yes! Basic stitches are all you need to make a square. Also, if you would like to join us but don't know how to knit or crochet, we are more than happy to instruct and provide you with simple patterns to get you started.
What kind of yarn should I use?
Any colour, size or consistency is fine, depending on the item you are creating. If you would like to make squares, we prefer our members to use 8ply acrylic yarn if possible, for ease of joining. If you can donate the material that's great, otherwise contact us as we may have yarn and materials that we can give you to work with.
Do you have regular Working Bees?
Our members mostly create from the comfort of their own homes, however we come together twice a month for 'working bees' where we work on joint projects, share information, skills and ideas and enjoy a cuppa in a creative and positive atmosphere. If you think you might like to come along to our next working bee, contact us via email, Facebook or check out our website for the details.
Once I have completed a project, what should I do?
If you have completed a project or would like to donate materials, you can drop them off at the following venues :
Hobbysew, Belconnen Mall
Crafty Frog, Kambah
or contact us to make other arrangements. Please mark all donations attention to Mary (Good Omen Goodeze – GOG)
How can I become involved as a volunteer Mentor?
We are always looking for volunteer knitting/crocheting mentors to support our beginners as well as participants of our Community Threads and Mindfulness Projects. If you would like to become a mentor, please email us for further information.
If you would like any further details regarding how to become a GOG Volunteer, please feel free to email or message us via our Facebook page or join our Facebook group.
email: admin@goodomengoodeze.org.au
Good Omen Goodeze Inc. Facebook Page
Good Omen Goodeze Facebook Group