Well, It's finally that time of the year! Plans for our Christmas Party are under way and once again we'll be heading to the Tradies Club in Dickson for more Christmas shenanigans! Games, raffles and of course our famous 'Secret Santa'! The event is currently limited to 40 so be quick and reserve your ticket on to avoid disappointment!
Information:
Who: Good Omen Goodeze community
Where: 2 Badham Street, Dickson, 2602, AU
When: Sunday, 5 December 2021 from 12:00-16:00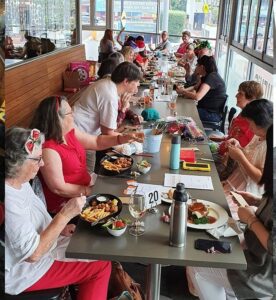 We have three fabulous raffle prizes in store for you including the two most gorgeous Christmas table runners ever and this amazing Reindeer Wall Hanging which have been donated to GOG (Thank you to our donators!) so we can raise some very needed funds.
Get your tickets for our Xmas Party now!!!!