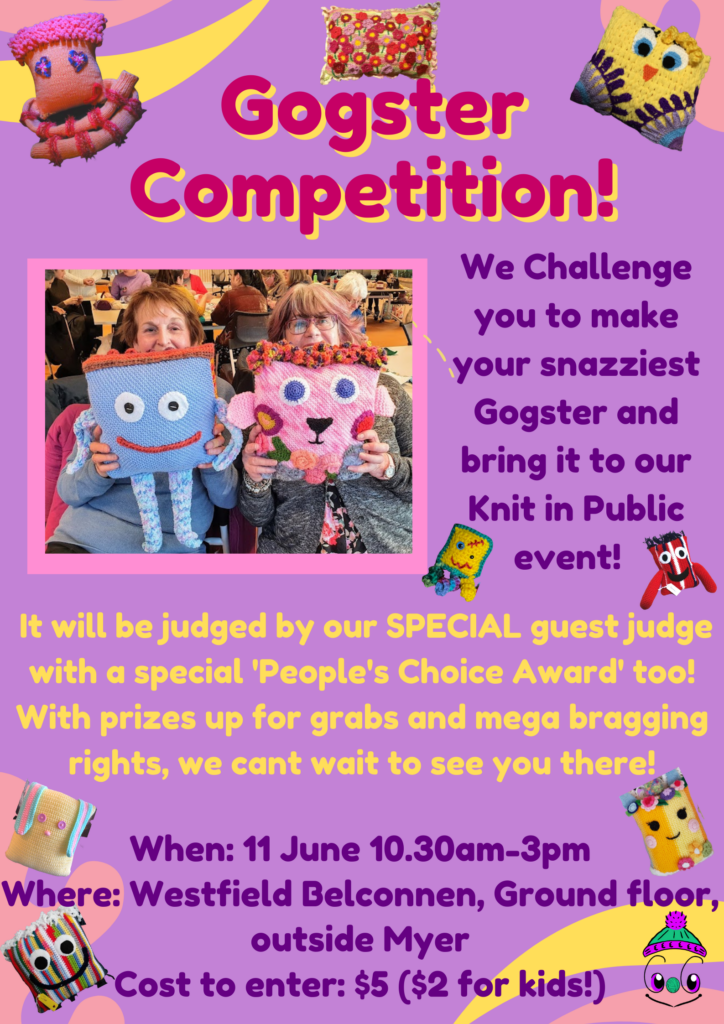 GOG EVENT ALERT
It's that time of year again, GOG's KIP- 
World Wide Knit In Public Day
!! Get your yarns and hooks ready on 11 June, and join TEAM GOG at Westfield Belconnen between 10.30am and 3pm, for what is a fantastic festival for all stitchers! 


 You may spend some time knitting or crocheting a square for a blanket to be donated to the Canberra Hospital, bring your own project to work on it together on the day, or simply drop in to have a chat with so many like-minded people.

And that's not all GOG has in store for you…. 



GOG is calling for the snazziest Gogsters for a special Gogster Competition! 



 This year, we would like to challenge you to make the most creative Gogsters to win prizes up for grabs on KIP- these Gogsters can be any size, up from 10cm x 10cm and you have just under 3 weeks to work on them, so size doesn't matter! 

 See photos below of a few samples of Gogsters made by our amazing GOG members.  Drop your Gogster off at one of our drop off points if you can't make it on the day (make sure you give them a name and put your name and phone number in the bag), or come on down and bring your Gogster with you on the day!  Please fill in the entry form below to give us an idea of numbers and either transfer the entrance fee to our bank account or bring it with you on the day.

For more information email us or check out our Facebook Page. Stay tuned for one of the most exciting events of the year and gear up for the Gogster Challenge! 
To find out more about the event, please visit http://www.wwkipday.com/gogs-kip/…#goodomengoodeze#gog