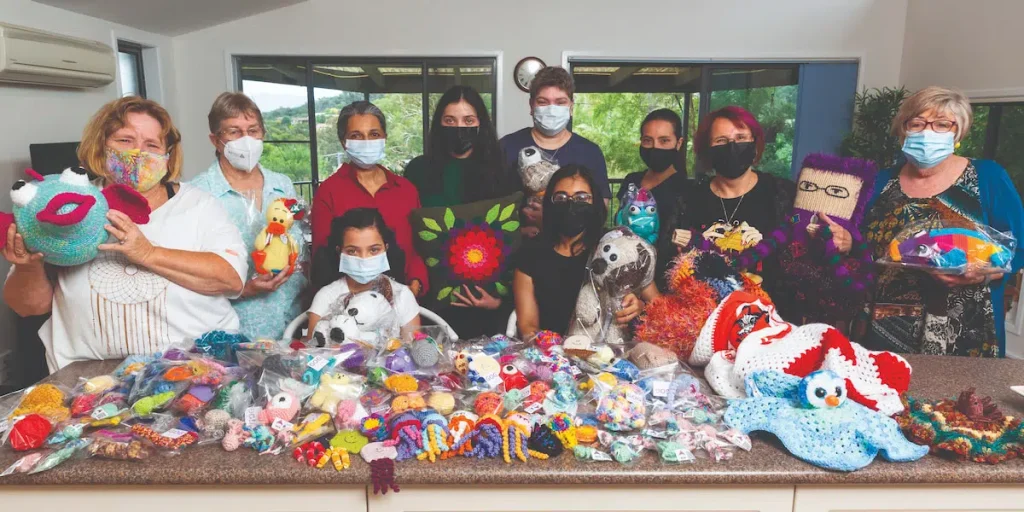 Good Omen Goodeze wants to give a massive thank you to Anja de Rozario for her amazing article! We also want to thank Kerrie Brewer for her photography. The Canberra Weekly article, titled: Are Canberrans up to the Vax Toy Challenge? reads:
" Listen up Canberra crafters, eight-year-old Skye has joined the cause to crochet companions for her fellow kids getting the jab and she needs your help.
Skye is the youngest member of Good Omen Goodeze, a local charity that recently issued the Vax Toy Challenge to crochet, knit or felt small toys to comfort little ones getting their first COVID vaccine.
The challenge was created by GOG president Mary Liondi-Barlow, a learning support assistant by day, who's been supporting children with special needs for 20 years and crocheting for almost 50.
"I did the psychedelic jumpers in the '80s and kept crocheting on and off until they came back in style," she laughed.
Skye attends GOG meetings with her 17-year older sister Siobhan, where they help make fiddle toys like the 'Worry Worms', 'Calming Caterpillars' and 'Stress-less Sharks'.
To date, GOG have created and donated over 2,500 comfort items to patients in Canberra hospitals.
After knitting 'pussyhat' beanies to send to the 2017 Trump protests, Mary donated the excess to a nurse friend at Canberra Hospital, who mentioned the importance of cosy, colourful items that can both warm ICU patients and give them something else to focus on.
"One of the patients at the time was very ill," Mary said. "He had one of my scrappy beanies on when his sister walked into the room and said, 'Oh my gosh! This is such a good omen – my granddad had a beanie just like this. He must be looking down on him'."
When Mary and a handful of friends formed a group to donate crocheted items through the Canberra Hospital Foundation, they knew exactly what to call it – Good Omen Goodeze.
"During COVID, we were asked if we could supply the testing centres with small toys to distract and help settle the children," she said.
"The toys helped nurses start a conversation with the children and make that connection that gives them a bit of a smile and a cheeky grin. 
"We're aiming to support the nursing staff who then support the children."
While GOG has grown to 120 members and received a COVID 19 mental health and wellness innovation grant, they are keen to enlist more crafters to the cause.
"We know there are more members of the community who knit and crochet, and we would love for them to be involved," urged Mary.
"Once people pay a $10 membership fee, we provide a pack with everything they need – needles, hooks, yarn, patterns … we have contactless pick-up and drop-off points. It's absolutely something you can do in iso."
"Covid is affecting every member of our community, in some way," said Mary. "In turn, there are billions of ways that anyone can pay it forward right now." " (Rosario, 2022)
see the full article and pictures here: https://canberraweekly.com.au/are-canberrans-up-to-the-vax-toy-challenge/